Toby's STUD Use Info
GOLD MEDALIST 2015 NATIONAL L Quoll (SV GER)
SILVER MEDALIST 2014 NATIONAL Stigler (SV Germany)
V Rated, 'a' NORMAL, ED NORMAL, Degenerative Myelopathy (CLEAR), Pituitary Dwarfism (CLEAR), Canine Renal Dysplasia (CLEAR), Canine Hyperuricosuria (CLEAR), Ivermectin Sensitivity MDRI (CLEAR), H Neg (CLEAR), SChH 3, KKl1, DNA proven in Germany and Australia, HD Breed Worth = 74
A large, strong dog, of very good body proportions. High withers, very good length and lay of the croup. Very good fore and hindquarter angulation. Balanced chest proportions. Stands correct in front. Steps straight both front and rear. Shows a powerful far reaching gait. TSB pronounced. Korung 21 April 2012, Breed Surveyor Dieter Nitschke.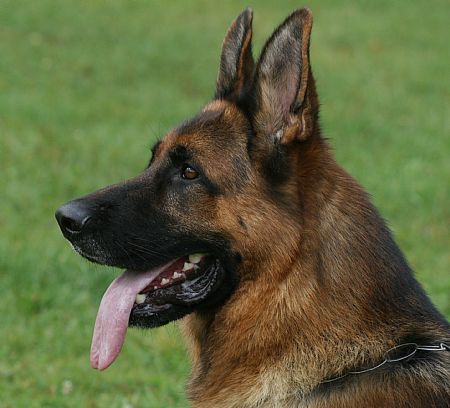 "TOBY" Standing at stud in NSW
Terms to use Toby at stud;
We require that the female has the "A" and "Z" stamp and has passed. Whilst "we prefer" the female to be Breed Surveyed, under the GSDC of Australia, this is not a requirement to use the dog at stud, and it is the "Breeder's choice". We are able to arrange transport for interstate females at an excellent rate and we can accomodate interstate females free of charge.
We test Toby's fertility EVERY 4 WEEKS and are able to supply you with a motility and sperm count prior to mating if required from via a CASA analysis. We would not mate bitches if it was not of excellent quality!!
TOBY's semen is of EXCELLENT quality and if you want proof of this please ask us for a current full CASA sperm report for proof of this instead of taking notice of others.
There is NO UP FRONT SERVICE FEE for "TOBY", the stud fee is payable upon registration of the litter.